Harrogate welcomes the world
September 13th, 2019
The 2019 UCI World Championships will take place in Yorkshire, Great Britain and every race will end here in Harrogate. William & Victoria are only a 5-minute stroll from the finishing line and fan park and a 10 minute walk from the bus and train station. Situated between the beautiful Montpellier Quarter, Valley Gardens and Cold Bath Road – known for its independent shops and eateries – W&V is ideally situated for visitors to Harrogate to sample some true Yorkshire hospitality and British food served in one of Harrogate's best restaurants.
We recommend you download the Yorkshire2019 app to keep an eye on race times, but there is plenty of time between races to nip down to William & Victoria for a glass of wine* and/or a bite to eat and soak up the atmosphere in Harrogate's original wine bar.
*N.B. Full bar available with local gins and beers in addition to the 60+ wines we have.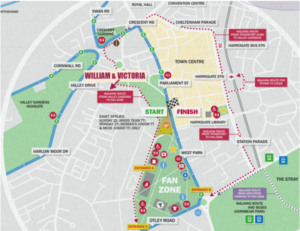 We will be open every day during the 2019 UCI World Road Championships.
Lunch 12-2.30pm (Sundays 12-5pm), dinner 5.30-10pm, open all afternoon in the downstairs Wine Bar for drinks and bar tapas.